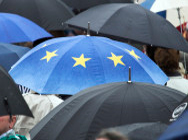 The
"European Christian Workers Movement" (ECWM)
" is a network of 20 workers' organisations in 15 European Union countries, as well as in Switzerland. It is made up of Christian workers and has set itself the target of creating a social and fair Europe. In this respect, the ECWM is working towards making a European social model a reality, based on the central principles of human dignity, solidarity and fairness.
The ECWM applies the "see – assess – act" method, based on the conscious perception and analysis of the living conditions of people in the areas of conflict of the social, economic and political structures, followed by an assessment according to the benchmarks of the gospels and the Church's social teaching. This results in political and pastoral action, as well as the development and formulation of solutions to problems within European politics.
The organisation and working structures of the various national workers' organisations are many and varied. Whereas different movements are able to look back on their own long tradition, some movements, especially in Eastern Europe, are still at the development stage. The basis for the social, cultural and emancipatory work of the individual workers' organisations is the Gospel, which stands at the heart of any action. The ECWM is also the European coordinator for the "World Christian Workers Movement (WCWM)", founded in Rome in 1966.