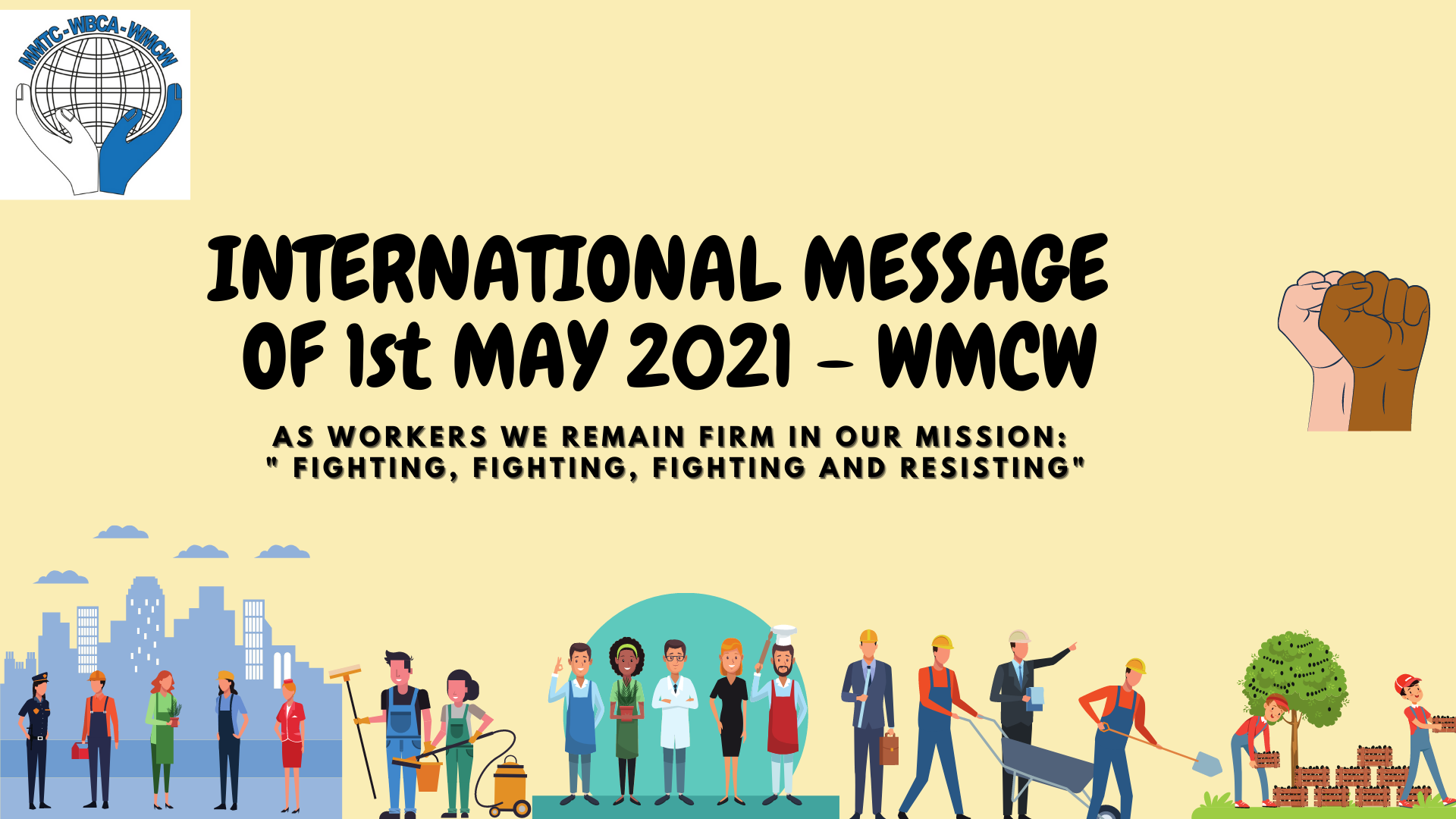 AS WORKERS WE REMAIN FIRM IN OUR MISSION: "FIGHTING, FIGHTING, FIGHTING AND RESISTING"
We thought we had gone out of this health crisis and we could demonstrate in the Labour Day. But here we are, still under the yoke of this pandemic which is gnawing our Common House, fighting to keep us safe.
1st May is an indelible inscription. We are not only fighting against a destructive virus globally, but also against a dividing current that decreases the primacy of work. This social and personal value, which raises the dignity of each individual, must be always held high in the hearts and minds of states as a humanity standard.
Will we be able to watch out the decline of the value inherited from the ancients?
Will we be able to watch out for the dignity of the poor who are constantly deprived of their dignity, of the marginalised who queue in solidarity shops, "resto du coeur", or during the distribution of food parcels and solidarity cheques? Will we be able to resist before the economic exploitation with workers?
The fundamental rights are not always respected, and even we could say they are in recoiling. We can mention:
The number of unemployed continues to rise, sign that a part of salaried population is unemployed. In Reunion island, the unemployment rate is 21%
Artisan, small and medium-sized enterprises that lay off their employees or going bankrupt
The precariousness of employment
The loss of social benefits
The lack of a dignified and decent housing
Inequalities in the treatment to men and women
This situation has important repercussions within the families, where the unemployment and precariousness lead to withdrawal and intra-family tensions, violence and health and education problems.
The fact is that every worker is an image of Creator, who does not fail to give priority to human being, as if to repeat "that worths more than all the gold in the world" (Joseph Cardijn)
Every woman and man is called to be actors and to participate in a sustainable and solidarity development and in the transformation of society to live with rectitude.
At the same time, our unequal society, that loses values in its globalisation aims, tends to consider the worker as a cog, a consumer. The economic model is worried more about its economy than about the human being. Thus, the multinational enterprises continue to enrich themselves for the most part with colossal profits.
Together with WMCW (World Movement of Christian Workers) of which it is a member, MCWR (Movement of Christian Workers of Reunion) wishes to associate itself with all those who, in Reunion and in the world, consider this day of 1st May, International Workers' Day, as an invitation to maintain and to continue the struggle for a more just, fraternal and sustainable society.
Let us not forget that if the working conditions have improved over time, it is because workers have created solidarity to keep being the way of hope, and to continue the struggle with those who look for building a more just world, of peace, where the human rights are respected…and there is still work to be done.
1st May is not just one-day demonstration, but a reminder that it is a daily struggle. And for us Christians, it is a human-centred fight, in the name of Christ, with the Holy Spirit.
Will we be able to enrich our way of looking, analysing…with the weapons of the heart and the teaching taken from the social thought of the Church putting God and his Son in our judgements?
Jesus Christ made himself to know through healings. In these pandemic times, let us allow ourselves to be inoculated by his Spirit, to bring about, through small actions there where we are, a change on a global scale.
Message written by Christian Worker Movement - MCW RÉUNION