Details

Back in September 2014 the MCW Review featured an article by a Primary School Teacher and her colleagues sharing their experiences of working life. It describes how some had chosen to go part-time just so that they didn"t have to work weekends which is what the result of full-time teaching actually meant in practice. The demands of work time and balancing family life meant exhausted teachers. Now, 4 years later newspaper headlines point to the fact that there is an "out flux" of teachers lining up to leave (Guardian Education, 10th April 2018). This June edition mirrors the same phenomena, albeit highlighting how the demands of the workplace are affecting the health of workers.
Various political parties have supported quotas being introduced into public services and contracted-out services; companies have set up exacting timescales of service provision, delivery and response times which have met with general popular approval. As a result, expectations have risen within the general population. However, these populist measures when introduced failed to acknowledge that whilst we are customers, travellers, students, patients, we are also the workers who have to provide and maintain this same level of immediate service demand. Individuals can allocate themselves or be allocated into particular compartments where they become at odds with each other and themselves particularly when, simultaneously, funding and resources are cut for a variety of reasons. Unsustainable and unworkable are words repeated as article after article in various newspapers refer to the widespread recognition of work-related stress. Long hours; not in control of how the job or role is carried out; no input into how the job could be improved; working towards goals and quotas that are more quantifiable than qualitative; all contribute to the stress factors being identified in too many places of work.
The statistics from the Health & Safety Executive reported in this edition underlies the presentation contents given at the various meetings marking International Workers" Memorial Day. The lost working days because of work demands demonstrate the conditions, pressure and obligations being made on and met by workers. Elizabeth, a young woman, set on being a good doctor and looking after those who needed health care could only come to one conclusion to save her own sanity: to leave; to walk away. Her article is telling in many ways. It highlights how, when pushed to step up and speak out; to stand up for yourself and those around you it results in a blame game. Consequently, solidarity is lost and the individual is isolated as if it is only their problem. Thus, any fundamental issue shaping all their lives gets lost and at the very least the workplace is fractured or, at worst, broken. Dr Caroline Elton is author of "Also Human: The inner Lives of Doctors". One reviewer of this book, Rosie McConachie, seems to capture and sum up exactly the issues which Elizabeth was conveying, "the book looks at the ways the system fails doctors and medical students and to some extend the ways some doctors fail one another."
The MCW welcomed Otto Meier and Toni Santamaria in preparation for the European Seminar taking place in Birmingham during October 2018. With the theme Digital Work, anytime, anywhere and its impact on workers and their families the experiences in this edition, although not specifically about digitalisation, are more than likely to be replicated and will inevitably beg the question how we can protect the rights of all workers.
Details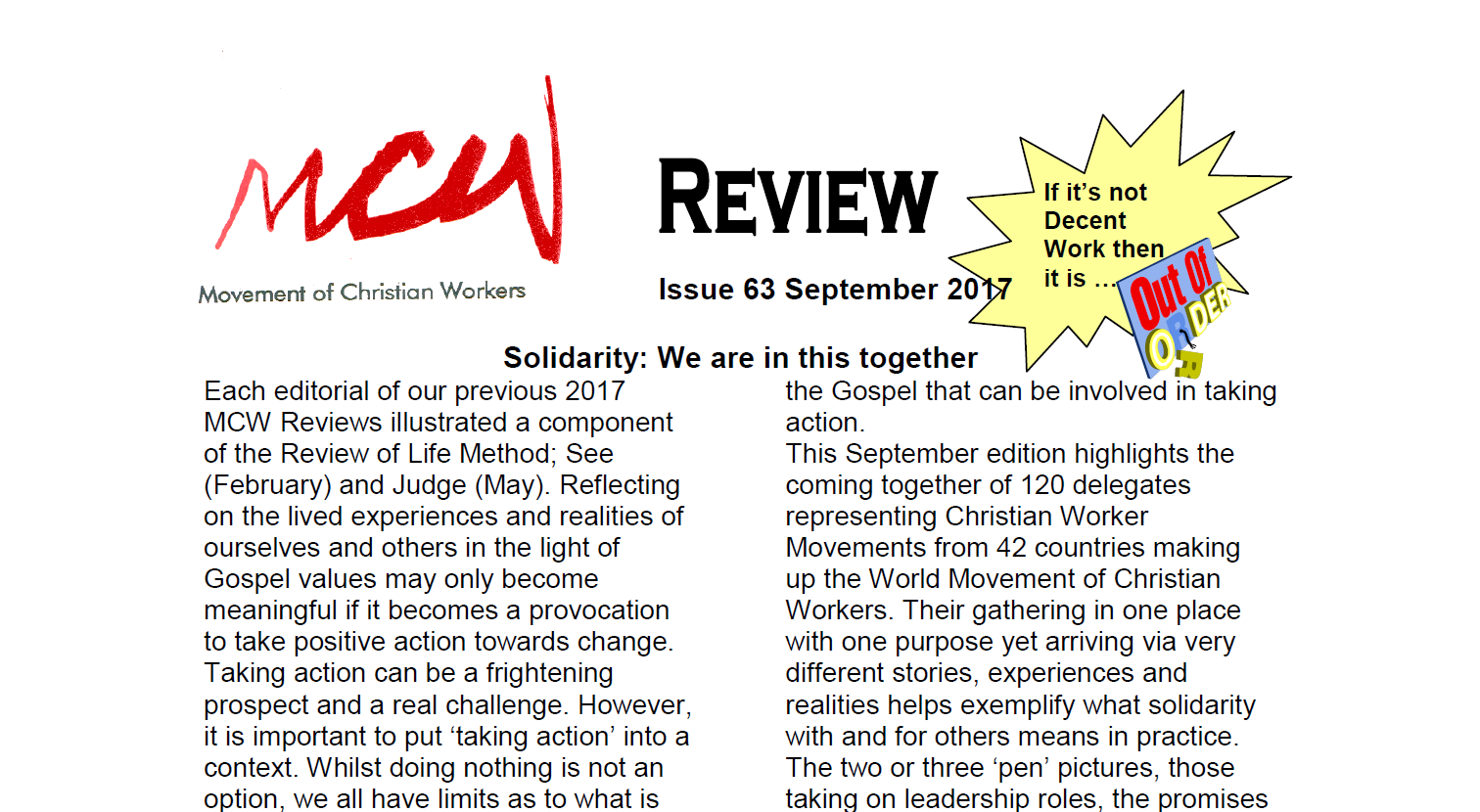 Each editorial of our previous 2017 MCW Reviews illustrated a component of the Review of Life Method; See (February) and Judge (May). Reflecting on the lived experiences and realities of ourselves and others in the light of Gospel values may only become meaningful if it becomes a provocation to take positive action towards change. Taking action can be a frightening prospect and a real challenge. However, it is important to put "taking action" into a context. Whilst doing nothing is not an option, we all have limits as to what is possible, of what we can do and what we can be involved in. Our actions can be small or they may involve more complicated steps. Sometimes the process of simply raising our own awareness and then sharing it with others is quite a telling act in itself.
What do we want to see changed? What can we do? How can we involve others in our actions are all questions arising at this stage of the Review of Life. What is crucial however is that you are not alone and that the aims and objectives are achievable. Having others sharing your aims along with a unity of purpose creates a solidarity of action and the continuing belief in the need for change; the need to be part of making that change. Being one person trying to raise the awareness of someone else is no less of a challenge or important than a group supporting someone taking action in the community or a workplace, or a member who has taken on a role as an MP, Local Councillor or Trade Union Rep. All are seeking to rise to the demand of being part of making change. This particular MCW Review highlights a much larger gathering which epitomises the resolve, tenacity and commitment to the Gospel that can be involved in taking action.
Details
World Day for Decent Work: The Reality versus the Vision 7th October 2016
Experience of young graduate woman In my first week I worked 53 hours. Most shifts lasted 14 hours. Shifts can end anywhere between 12:30 a.m. and 2:00 a.m. 5 nights a week.
The employer contributed some money for taxis because buses had finished but only to a named firm, one of themost expensive. This cost me £50 a week. I know the law is to have a 20 minute break if working over 6 hours or an hour break if working over 10 but this didn't happen. Instead, because I started at 12 noon I'd work 10 to 14 hours standing up and walking around with no food. Starting at 11:00 a.m. did mean you got something, maybe cheese on toast.
They were trying to be good by giving food but really if you work a 12+ hour shift you don't really need your food in the first hour. Not all restaurant/bars are like this although some are. I've left this place now.
The B45 MCW group on Decent Work means to me ............. "A fair days wage for a fair days work and set hours of work." "Sick pay, holiday pay, a living national wage and equal pay." "A regular and reliable source of income for the individual that allows them to have self-respect and contribute to the wellbeing of their community and giving them the security of knowing they can feed and support themselves and their family and provide a basic education for their children." "Security, independence, respect, citizenship, a living wage, purpose, a healthy and safe environment, where there is justice, fairness and equality". "A fair, living wage, security of some sort, gender equality, no discrimination, safe working conditions, respect from employers and other employees." "Enough secure hours weekly to guarantee a living wage, a safe environment with NHS contributions and pensions secure, wellbeing to work hard but not under pressure continually."
The MCW has made this short Video, click on link https://vimeo.com/188829089
Details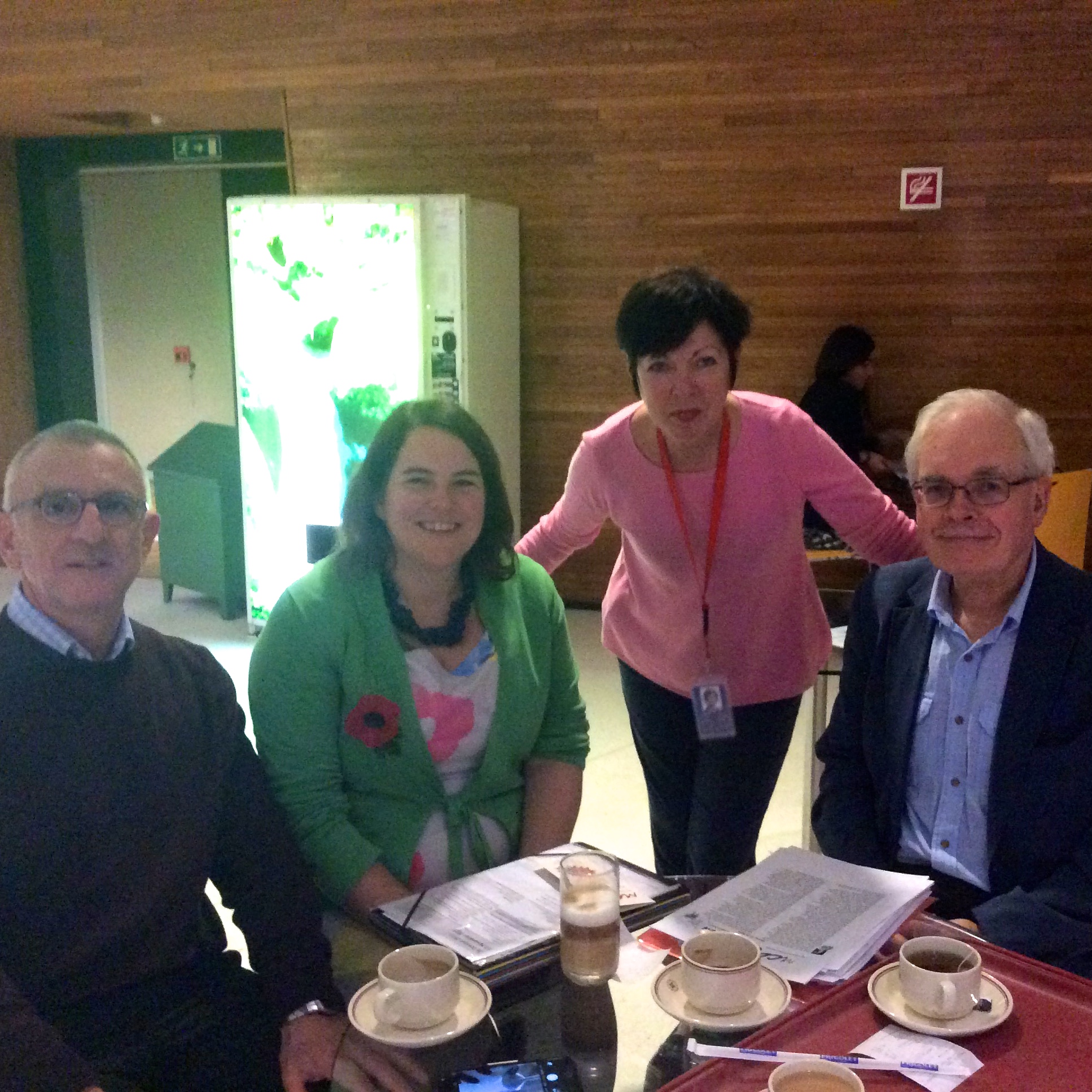 The MCW joined representatives from 12 European Movements including those from Switzerland, Spain, Germany, South Tyrol, Austria, Czech Republic, Belgium, Portugal and France for a seminar in Strasbourg from the 27-30 October, to examine the theme of 'Dignified work in solidarity economy'.
The Movements were able to work together accepting their diversity but also reinforcing their communality in proclaiming the good news of the gospel to workers across Europe and indeed at a global level.
We heard how the world of work is increasingly a precarious one taking on different forms in our society, work with a salary which, more and more, cannot meet the rising costs of living, the increasing reliance on volunteers both in the world of work and in community associations with an over representation of women and the inequality they experience in the distribution of tasks and responsibilities.
Speakers shared with the seminar the reality of working life in Germany, France and Catalonia reminding us that work is still dominated by economic rules and not the social needs of society as a whole.
Our delegates Jim Dearlove and Paul Edwards see photo, had a positive and productive meeting with three English members of the European Parliament: Jude Kirton-Darling, Paul Brannen and Theresa Griffin, during a visit to the Strasbourg Parliament.
Our German movement KAB together ith SKM, another catholic movement, has produced a short information video on the TTIP and CETA agreements and their consequences on people and institutions in Europe. Do not hesitate in sharing this video.