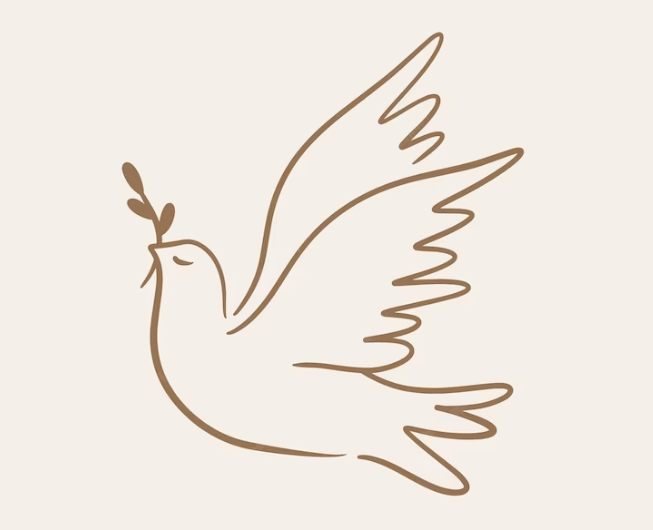 Twice in John's Gospel, after the Resurrection, Jesus says to his disciples "Peace be upon you". This wish of Jesus is not only addressed to his disciples, but to all mankind. And today we dare to say that it is addressed to all countries where there are armed conflicts, of greater or lesser intensity, and especially to the peoples of Ukraine and Russia.
A message addressed to the peoples and to the leaders of the peoples, to the politicians and to the military leaders. A message addressed to the weakest of all peoples where there are armed conflicts. A message to so many mothers, so many wives, so many small children, who see that their men, their fathers, do not return because they have died on the battlefield. The peace that Jesus wishes us is a message of hope with the desire that the powerful soften their hearts and seek understanding.
"It takes two to make a quarrel", says a well-known and wise saying that gathers the experience of long years of conflict. That is why the Latin maxim "Si vis pacem para bellum" could become "Si vis pacem para pacem" if the parties to the conflict were willing to put an end to all hostilities, whether armed, economic, cultural, social, or labour-related. Thus, Jesus' call to be peacemakers makes perfect sense in our days and in the face of all conflicts: "Blessed are the peace-makers; they shall be counted the children of God", we read in Matthew's Gospel. As hostilities and quarrels too often arise from the human heart, this text clearly emphasizes that peace is work.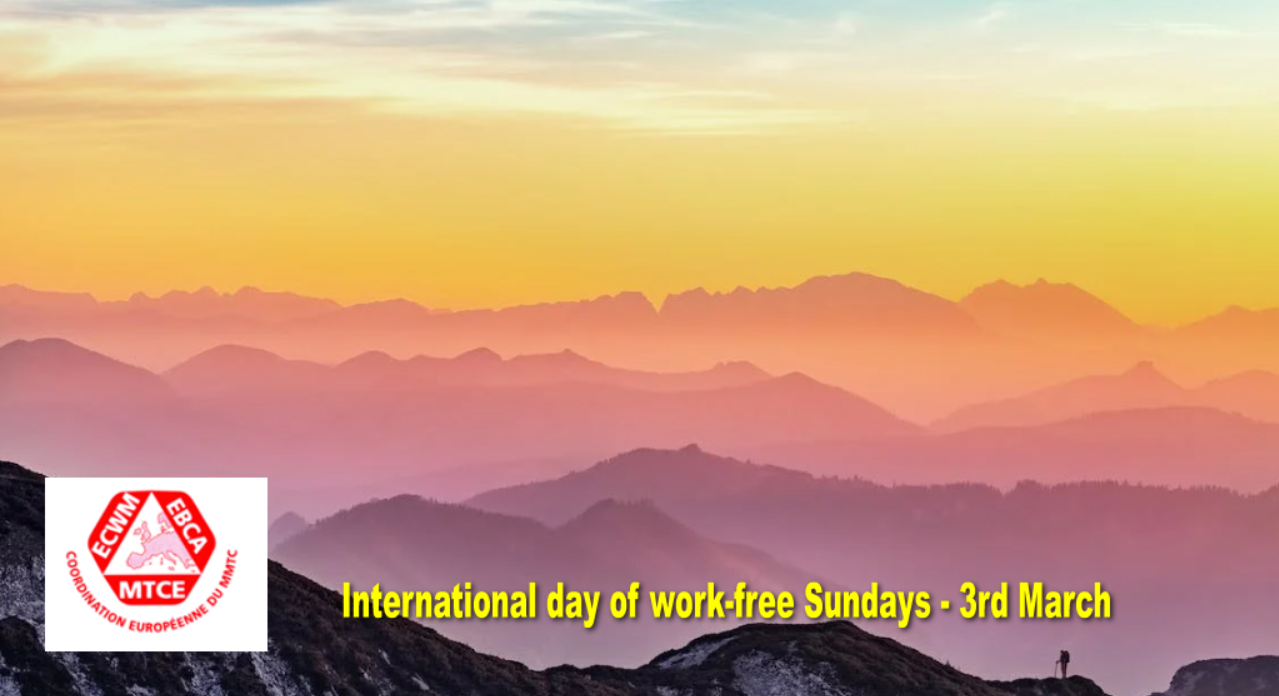 The separation between working time and leisure time has been decreasing. On average, workers' leisure time has lost importance. We live in a time of the primacy of capital over labour. Our principles are based on the primacy of the person over material things. The economy, business and work must serve people, not the other way around i.e. "work for the person, not the person for work". This is the meaning of the traditional principle of the primacy of labour over capital (see Laborem Exercens, 7 and 13).
March 3rd is Work Free Sunday. On this day we reflect seriously about these questions: Do we really need shops to be open all weekend including Sunday? As consumers, isn't there another day in the week to go shopping? Apart from strictly necessary activities, is it really necessary to work on Sunday? As a society should we set aside a day in the week where most citizens are free from work and more value is placed on rest, free time, leisure, creating more time for the family and their well-being?
In the organisation of work, the duration of working time in most developed economies took a long time to be understood and regulated. For many centuries people worked from sunrise to sunset.
The workers' struggles of the 19th and 20th centuries made it possible to establish a general limit of 8 hours a day, 5 days a week, in most sectors of work in western countries. During the 1990s, with the introduction of new technologies, it was believed that it was possible to reduce working hours and that workers would have more free time, a hope that did not come true.
Rorate caeli desuper, et nubes pluant iustum
Drop down dew, ye heavens, from above, and let the clouds rain the Just
The prophet Isaiah tells us in chapter 45, verse 8: "Rain down, you heavens, from above, and let the clouds pour down saving justice!" However, St. Jerome (c. 347 - c. 420), when he translated the Bible into Latin, the so-called Vulgate, gave a messianic character to the text and what should have been: "Rorate, caeli, desuper, et nubes pluant iustitiam", became: "Rorate caeli desuper, et nubes pluant iustum". He translated "iustum" (Just), by "iustitiam" (Justice). Rain clouds to the Just!
And that is our prayer this Advent season: Clouds, rain down Justice, clouds rain down the Just One. Yes, God and our Father, sends the Righteous One to give us strength to carry out his justice. A justice demanded by the most destitute of our working brothers and sisters, in whom we see the face of Jesus, the Messiah, the Christ, the Son of God. Justice demanded by those affected by the health, ecological, economic, and social crisis, the consequences of which still affect so many of us, so many of our brothers and sisters.
At Christmas we celebrate the closeness of God. Closeness that we experience and celebrate throughout the year, wherever we are, because Jesus appears to us in the face of all those who, like him, cannot find a place to stay, cannot find a place to rest from the hardships of their lives. Christmas is a reminder of God's commitment to us, of his trust in us who, despite our precariousness, want to follow in the footsteps of the Righteous One who brings us justice.
O heavens, rain down your justice! It is this hope that has led us this year to become aware, at the Lisbon Seminar last September, of the consequences of the pandemic caused by Covid. This infinite hope which helps us feel the call to transform the world for which we work and fight into the world where we will be able to exercise our condition as daughters and sons of God. Hope is audacious, we said in the final manifesto. That is why we believe that not only is another world possible, but we believe that another world is necessary. The world that the Gospel proposes to us, the world that Jesus, the Son of God, the Righteous One, has dreamed for humanity.
In the Seminar that we will be holding in Barcelona next September 2023, we will insist on our role, as Christian workers, to make democracy truly a means that facilitates justice and social prosperity and leads our Europe to actually fulfil Jesus' answer to the disciples of John the Baptist: "The blind see, the lame walk, the lepers are made clean, the deaf hear, the dead are brought back to life and good news is reaching the poor. And how fortunate is the one who does not take offense at me." (Mt 11:5-6).
Christmas is the beginning of the world that Jesus, the Righteous One, the Son of God, has dreamed of. Let us join God's initiative by welcoming the Righteous One in us, and making him known among our working sisters and brothers. That will be the best gift we can give them. Merry Christmas, God bless you and your families!
Olinda Marques, President
Charly Brunner, President
Melchior Kanyamibwa, Coordinator
Armin Huerner, Treasurer
Josep Jiménez Montejo, Chaplain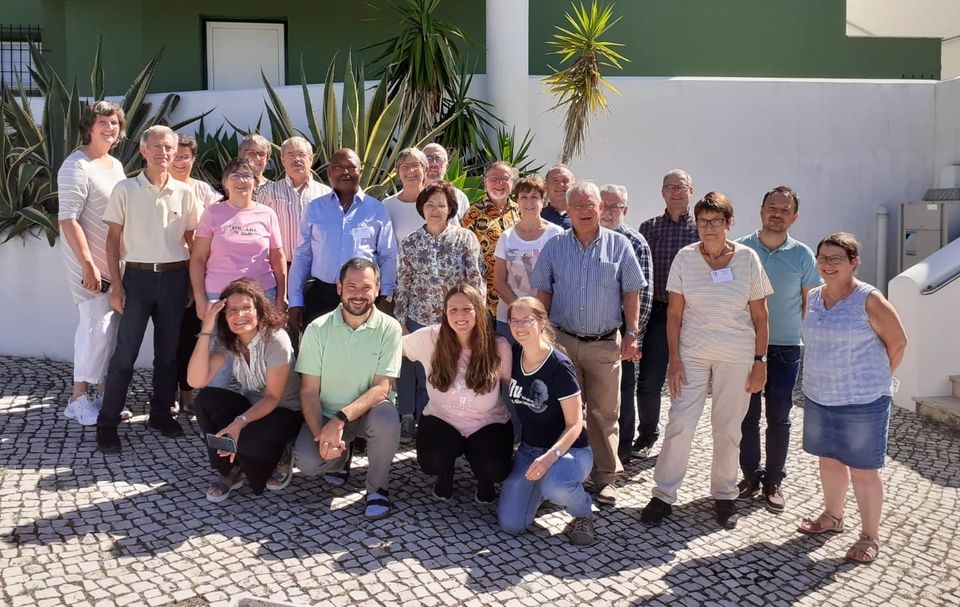 Hope is bold!
The European Christian Workers' Movement (ECWM/ECWM/MTCE) organised a seminar entitled "Impact of the Coronavirus Pandemic on Employment and Social Affairs - Experiences and Actions for Recovery" in Lisbon, Portugal, from 21 to 24 September. 35 representatives of affiliates from 8 European countries attended the seminar, all contributing with their experiences and perspectives.
The Corona pandemic is not only a health problem. It is also a social problem that exacerbates pre-existing problems like a burning glass. These include poverty, unemployment, unequal living conditions, inequalities between women and men, between rich and poor. The gaps have increased.
We see that existing injustices are worsening.
In the pandemic, the situation of paid and unpaid care workers has become the focus of our attention. Care workers were already overworked before. The pandemic has further accelerated the downward spiral. In spite of the importance of health care which we saw during the Pandemic, monetary interest governs in several cases.
Governments have provided financial support to businesses and workers. However, in many places this support was not targeted enough. This has led to many social upheavals.
During the pandemic, the extent of mobile working or home office has increased significantly. However, not all countries have the legal framework in place to ensure workers' rights in these forms of work. It remains an open question how mobile work can be used for the benefit of workers. Shadow sides include the isolation of workers with consequences for worker's organisation and the exclusion of those who do not have sufficient access to digital work tools.
In the course of the discussion about home office, many people lose sight of the fact that a large part of work activities can only be done in the presence of others. These workers were particularly exposed to the virus during the pandemic. They must remain the focus of our attention.
We have also seen that those groups that are already vulnerable were also particularly affected by the pandemic. These include, for example, poor people, migrants, Roma, people with disabilities, young people.
E The pandemic had a major impact on many young people, for example in education, where everything was switched to digital education without adequate preparation and not all students had adequate jobs for home-schooling. Young people often work in precarious conditions, and precariously employed people were among the first to lose their jobs due to the pandemic. Psychologically it was also very difficult for many young people as they could no longer do activities with other young people due to the closure.
The pandemic has resulted in psychological stress for many people to this day. The tendency towards individualism has increased.
Nevertheless, we also see positive examples that give us hope:
During the pandemic, activities that otherwise often remained invisible, but which are particularly important for society, e.g., care, cleaning, transport, logistics, kindergartens and schools, etc., finally came into view.
The willingness to act in solidarity has grown in many places. In neighbourhoods, people have taken the initiative to support each other.
During the pandemic, social economy enterprises have particularly put their strengths to work. By putting solidarity at the centre, they have shown themselves to be particularly resilient. The social economy is active in all sectors: They are local enterprises that reduce inequalities and contribute to sustainable employment.
Judging
"Get up and walk" (Mk 2:0)
In the face of this reality, we formulate our convictions and orientations in order to bring them clearly into the public debate. In doing so, we listen in a special way to the experiences and needs of the people with whom we act in solidarity. In particular, we advocate:
The right to dream in the future of work, in which we have significantly improved working conditions. It is good that socially relevant activities have become visible, but now it is a matter of sustainably improving working conditions According to the importance that this work has.
For a world in which people are at the centre. They should be at the centre of our own actions, as well as at the centre of economic activity. We need an economy that serves people.
Every person is capable of doing something socially valuable. All people must also find the conditions in which they can work accordingly.
The weakest and most vulnerable must be the focus of social action in a special way. Welfare state support and social infrastructures must ensure that all people can live in dignity.
We formulate our convictions as an expression of our faith. Jesus Christ, in whose following we are, considered all as children of God and therefore we consider all people as sisters and brothers.
We stand up for solidarity. No human being lives independently of the society in which they live. We see the need to ensure that no one is left out of welfare state solidarity. And we see the need to further strengthen forms of solidarity in social economy initiatives.
Act
The pandemic has shown us in all clarity that social changes are necessary. We will demand these changes and contribute to solidarity and justice ourselves. As Christians and as Christian workers' movements, we want to contribute to a different, better world. We are committed to making these demands a reality:
Our solidarity is concretised in our commitment to workers, especially those who are particularly vulnerable. We are already designing concrete projects for solidarity and will continue to strengthen them.
We facilitate and organise education (formation and popular education) and empowerment, on a personal and collective level, for emancipation and autonomy.
We promote dialogue between the church and the working class. We draw the attention of the church to working conditions and demand positioning in terms of human dignity.
We actively shape political change and get involved in political debates.
To this end, we enter into dialogue with other organisations and work together with them for change.
We take up the challenge that the climate crisis poses for us. This includes reflecting on it in its connection with social issues and bringing an informed stance to social debates based on our convictions.
We call for a due diligence law (supply chain law) at EU level that effectively improves working conditions and environmental responsibility in supply chains. We act also in our countries to influence the EU.
Where we work locally, we have an eye on global structural injustices. We believe that everyone can contribute to the social change we need. Even when things are difficult - we do not give up hope. Hope is bold.
ECWM, Lisbon 25th September 2022
-------------------------------------------------------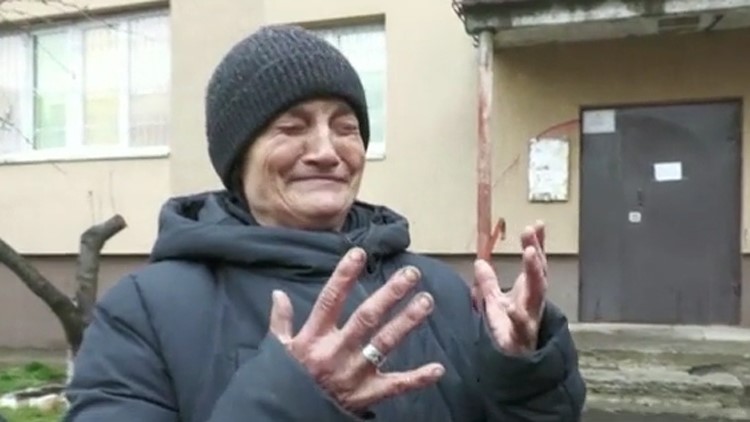 Europe, the war, God, people
In this year 2022, we will celebrate Europe Day (9 May) against the terrible backdrop of the war in Ukraine.
What can we Christians say?
As was also the case with COVID, it seems that the drama in Ukraine is once again raising questions about God, life and the human being. What is God doing in the face of all this? Where is God in the face of those empty streets, populated only by corpses, some with their hands tied behind their backs? Where is God in the face of those mothers desperate because they do not know how to free their children from panic, hunger or suffering beyond their little strength? How is it possible that God allows what is happening in Ukraine today? Or what happened in the various Auschwitzes of yesterday.
We want to be Christians and witnesses of the proposal of salvation and liberation that Jesus Christ offers to society and the world of work, but the people around us present us with these questions.
The problem of the "silence of God", Christians have had to endure since the beginning of time.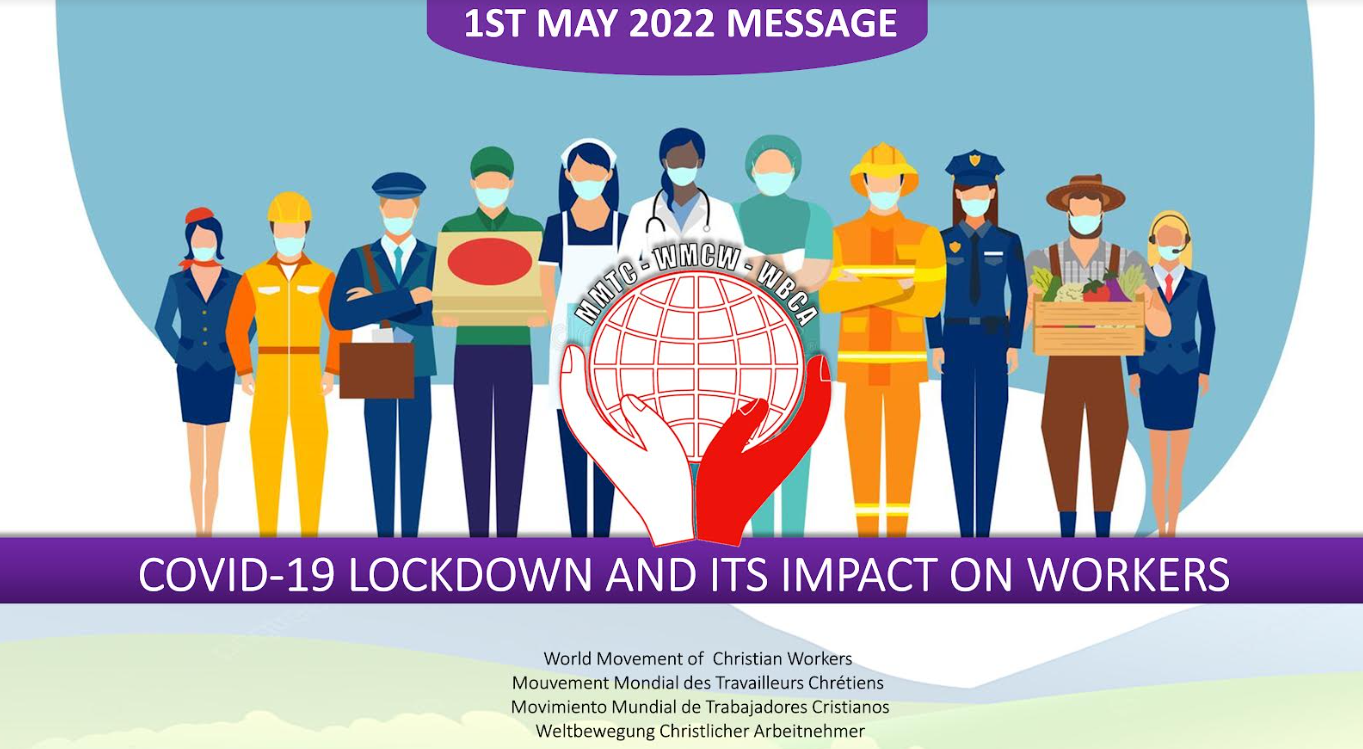 Confinement due to Covid-19 began two years ago and in Uganda, after almost two years workers have experienced unspeakable stories of suffering and despair. Many workers have lost their jobs due to the long period of confinement and unemployment levels have risen.
Uganda was one of the countries with the longest lockdown period, from 1 April 2020 to January 2022, when the economy was fully reactivated. Informal entrepreneurs had no income during this period and had to dip into their own savings, rely on government food aid or seek help from family and friends to survive. This means that during the period of closure, most workers found themselves in a subsistence economy.
The conditions of confinement have affected almost all sectors of the labour market. The number of people employed in Uganda has declined from 9 million in 2016/17 to 8.3 million in 2019/20. This led to many wage earners losing their jobs. Other workers were forced to close their businesses.
Due to the unemployment situation in the country, even before the pandemic, Uganda used to export labour to the Middle East, especially to Saudi Arabia and the United Arab Emirates. This was despite reports of poor working conditions. The number of Ugandan migrants has decreased from 25,363 in 2019 to 9,026 in 2020, due to the effects of the pandemic. This explains the extent of the impact of confinement on workers in Uganda and globally.