The ECWM (European Christian Workers Movement) is a coordination of movements of christian workers from 10 European countries, fighting for a socially just Europe based on the Gospel and the Social Doctrine of the Church. With a view to the elections to the European Parliament, which will take place from 23 to 26 May 2019, we present our main demands. In this way, we fulfill our responsibility as citizens of the European Union (EU) by providing our point of view of christian workers.
The criterion of all political action
The foundation of our positions is the dignity of each person and our condition as daughters and sons of God. Politics at all levels must protect this dignity and promote it, which, for christians, is a requirement of the Gospel.
Consequences and suggestions
We consider the following demands, of vital importance for the development of our societies in the European context:
• The social dimension of the EU must oblige the Member States to do justice to every concrete human being with their concerns and needs, since more than 120 million people in Europe risk falling into poverty and social exclusion . The dignity of each of these people demands an urgent response.
• As suggested by the Social Commission of the COMECE (European Commission of Episcopal Conferences) in its November 2018 document, "Modeling the future of work", we ask everyone's effort to configure the work according to the criteria of human dignity (fair working conditions, decent income, balanced work schedules), sustainability (assuming our responsibility through ecological action), co-management through social dialogue and the participation of everyone in the work process.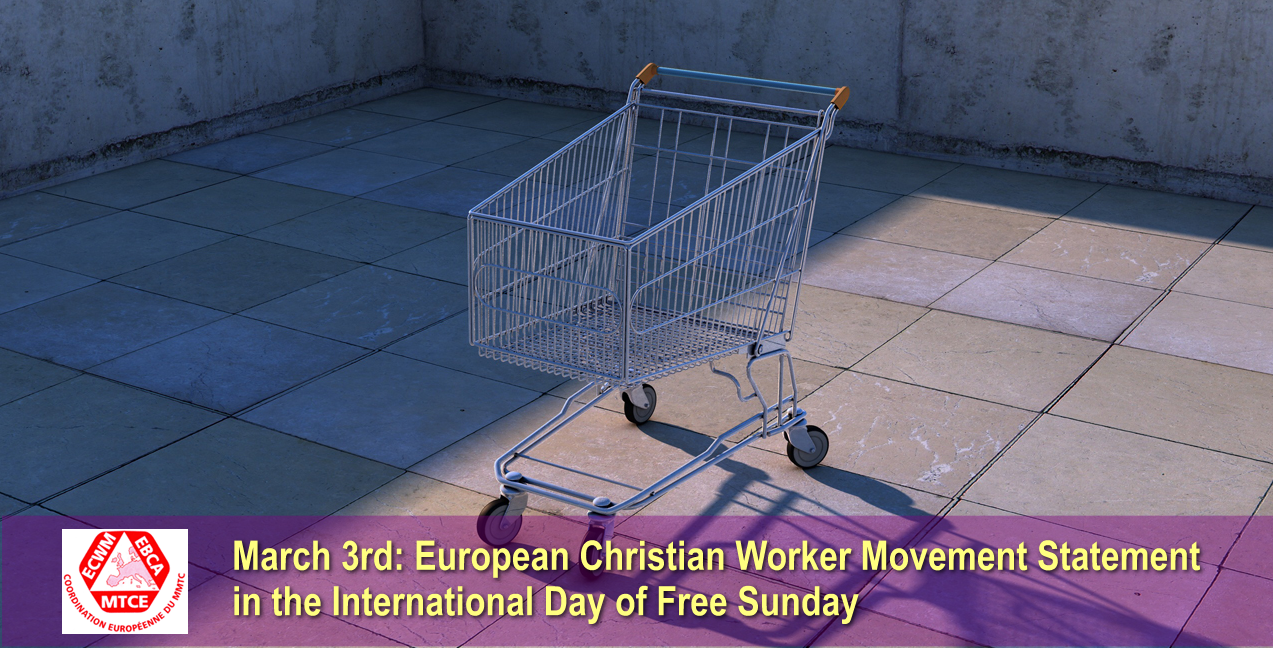 European Christian Worker Movement (ECWM) expresses its full support to all the initiatives taking place on 3rd March that is the International Day of Free Sunday. ECWM considers very important to keep free Sunday of dispensable work, since it must be a day off from ordinary professional work because it has healthy effects by several reasons. In addition, it is a sacred day for us as Christians.
We consider a work-free Sunday as an occasion to reconcile professional and family life, since it provides adequate time for dedicating to family and the strengthening of good social relations that are essential for living together favourable humanly. In our times, in the age of growing individualism and selfishness, free Sunday can build bridge among people, help them to relate more and be more interested for the others' lives, forgetting themselves and thinking more about people's needs. This fact is particularly important for the healthy development of families whose role in the social development is fundamental.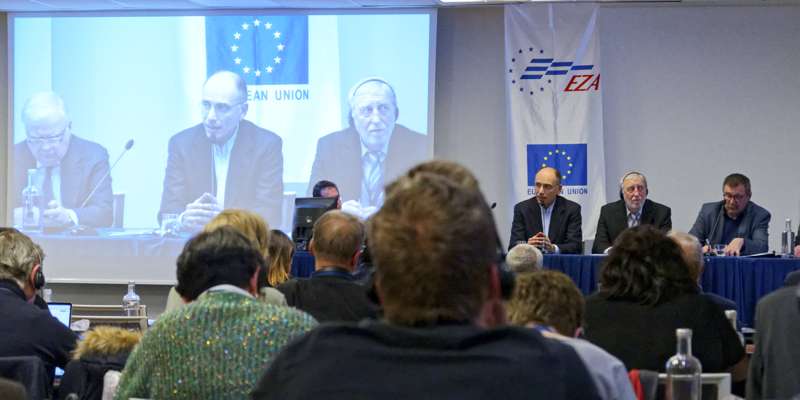 From February 14 to 16, the VII European Social Week was held in Milan. The motto was "Solidarity, Subsidiarity and Common Good - ways to overcome poverty and social inequality in Europe".
It has been attended by almost 100 people, from 21 countries in Europe, representing organizations, parties, unions and Christian movements concerned about justice and social rights. Mr. Antoine Hérouard, president of the Social Commission of COMECE and auxiliary bishop of Lille (France) has also attended. On behalf of the MTCE, we have attended two representatives.
The following presentations, presentations and panels have been developed:
- Ways to get out of the social crisis in Europe
- Changes that await us in the world of work. Work for all?
- The digitalization of the economy and work
- Reality and new challenges in social dialogue
- The new European social order
Details
The European Christian Workers Movement (ECWM) has participated in the conference "Building the future of work. A faith-based contribution to the initiative for the centenary of the ILO" that has been convened by the Commission of the Episcopal Conferences of the European Union (COMECE) on November 27, in Brussels.
The world of work faces profound changes. Digitization, the acceleration of globalization, artificial intelligence and the need for an ecological transition alter the conditions and the concept of work and employment. To respond to these challenges, the International Labour Organization (ILO) launched the Initiative on the Future of Labour as part of the centenary of this UN agency scheduled for 2019.
Details
From 18 to 20 October 2018 the annual ECWM Seminar was held in Birmingham (England) with the theme: "Digital work - working anytime, anywhere - impact on workers and their families".
We gathered representatives of 12 Christian workers' movements from 10 European countries to discuss the impact of digital technologies on people, families and social life.
The seminar took place in different working dynamics: communication of experiences and testimonies, expert presentations, group work, plenary dialogues, etc.
The seminar has been structured in three parts: SEE, JUDGE and ACT. This is the formative pedagogy proper to our movements.
Details

Back in September 2014 the MCW Review featured an article by a Primary School Teacher and her colleagues sharing their experiences of working life. It describes how some had chosen to go part-time just so that they didn"t have to work weekends which is what the result of full-time teaching actually meant in practice. The demands of work time and balancing family life meant exhausted teachers. Now, 4 years later newspaper headlines point to the fact that there is an "out flux" of teachers lining up to leave (Guardian Education, 10th April 2018). This June edition mirrors the same phenomena, albeit highlighting how the demands of the workplace are affecting the health of workers.
Various political parties have supported quotas being introduced into public services and contracted-out services; companies have set up exacting timescales of service provision, delivery and response times which have met with general popular approval. As a result, expectations have risen within the general population. However, these populist measures when introduced failed to acknowledge that whilst we are customers, travellers, students, patients, we are also the workers who have to provide and maintain this same level of immediate service demand. Individuals can allocate themselves or be allocated into particular compartments where they become at odds with each other and themselves particularly when, simultaneously, funding and resources are cut for a variety of reasons. Unsustainable and unworkable are words repeated as article after article in various newspapers refer to the widespread recognition of work-related stress. Long hours; not in control of how the job or role is carried out; no input into how the job could be improved; working towards goals and quotas that are more quantifiable than qualitative; all contribute to the stress factors being identified in too many places of work.
The statistics from the Health & Safety Executive reported in this edition underlies the presentation contents given at the various meetings marking International Workers" Memorial Day. The lost working days because of work demands demonstrate the conditions, pressure and obligations being made on and met by workers. Elizabeth, a young woman, set on being a good doctor and looking after those who needed health care could only come to one conclusion to save her own sanity: to leave; to walk away. Her article is telling in many ways. It highlights how, when pushed to step up and speak out; to stand up for yourself and those around you it results in a blame game. Consequently, solidarity is lost and the individual is isolated as if it is only their problem. Thus, any fundamental issue shaping all their lives gets lost and at the very least the workplace is fractured or, at worst, broken. Dr Caroline Elton is author of "Also Human: The inner Lives of Doctors". One reviewer of this book, Rosie McConachie, seems to capture and sum up exactly the issues which Elizabeth was conveying, "the book looks at the ways the system fails doctors and medical students and to some extend the ways some doctors fail one another."
The MCW welcomed Otto Meier and Toni Santamaria in preparation for the European Seminar taking place in Birmingham during October 2018. With the theme Digital Work, anytime, anywhere and its impact on workers and their families the experiences in this edition, although not specifically about digitalisation, are more than likely to be replicated and will inevitably beg the question how we can protect the rights of all workers.